Interagency collaborations at all levels
The Danish approach to prevention is based on a tradition for collaboration between authorities at all levels.
The Danish Info-houses build on the crime preventive collaborations called SSP (schools, social services and police), PSP (psychiatry, social services and police) and KSP (prison and probation service, social services and police). These local preventive collaborations, in turn, build on the prevention responsibilities of the different actors as set out in legislation.  Not least the municipalities have a significant responsibility, enshrined, inter alia, in social and educational legislation, and many municipalities have developed comprehensive action plans for prevention.
At the national all level the local prevention structures are supported by national authorities such as the National Police, the Prevention Centre (NFC), The Security and Intelligence Service (PET), the Danish Centre for Prevention of Extremism and the Board for Education and Quality (STUK).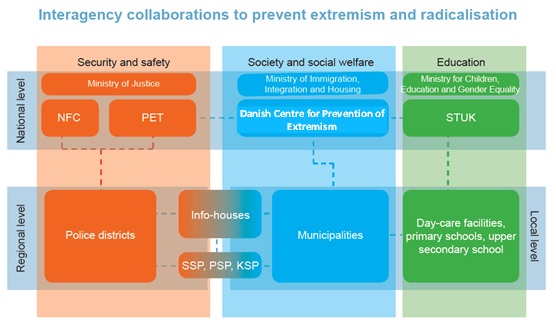 last modified

Jun 24, 2021